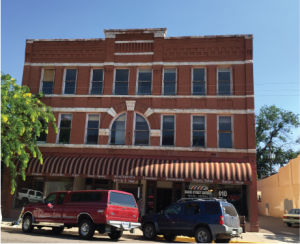 In the spring of 2017, a group of out-of-state property investors purchased a historic three-story building in downtown Florence, Colorado.
Built in 1894 by James McCandless for his expanding mercantile business, the McCandless Building, as it is known, was also home to a shoe and clothing company, a hotel, offices, and a public hall. By 2017, however, years of neglect had taken their toll, and the building stood mostly empty.
The new owners intend to overhaul the 23,000-square-foot structure. Their plans include a ballroom, a commercial kitchen, dining, and short- and long-term rental units.
The owners also knew they needed to address the building's aging systems.
To fund the energy efficiency portion of the makeover, the owners turned to a new program designed specifically for this purpose. Commercial property assessed clean energy, or C-PACE, is a government-sponsored program that facilitates affordable, long-term financing for up to 100 percent of eligible energy improvement projects. "Once we learned about the Colorado C-PACE program, we recognized that C-PACE is the ideal way to add value to the building while lowering our operating costs," said Craig Giles, who represents the building's owners.
Read the full article in Revitalization.org.