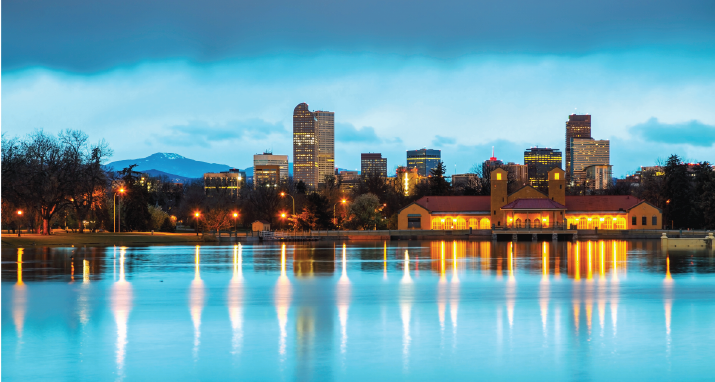 ABOUT COLORADO C-PACE
Program Overview
Colorado Commercial Property Assessed Clean Energy (C-PACE) Program
C-PACE enables owners of eligible commercial and industrial buildings to finance up to 100% of energy efficiency, renewable energy and water conservation eligible improvements. Financing is provided by private capital providers at competitive rates with repayment terms up to 25 years.
Power of PACE
Building owners are empowered to modernize building energy infrastructure, lower energy costs, increase building comfort and asset value – with no upfront costs while enjoying positive cash flow. C-PACE projects also advance public policy goals to create local jobs, reduce greenhouse gas emissions and increase renewable energy deployment.
C-PACE Assessment and Repayment
C-PACE financing repayment is facilitated through the County property tax assessment process. A voluntary assessment (similar to a sewer district assessment) is placed on the building owner's property tax bill. The assessment is repaid over the financing term (up to 25 years) and the annual energy cost savings will, in most cases, exceed the annual assessment payment, thereby enabling capital intensive equipment upgrades. Because the C-PACE assessment obligation runs with the property, the assessment can transfer to the next owner when the property is sold.
Program Administration
Sustainable Real Estate Solutions, Inc. (SRS) has responsibility for C-PACE program administration.
Program Administration Fee
Colorado C-PACE is designed to be self-sustaining. To ensure that the program fees charged to program participants are sufficient to cover the operating costs associated with administering the program, a one-time fee equal to 2.5% of the project finance amount (not to exceed $75,000 per project, with a minimum fee of $5,000 per project) will be assigned to each C-PACE project. The program administration fee is typically included in the total financed amount.
County Servicing Fee
Each Colorado county that participates in the C-PACE program has agreed to collect the C-PACE assessment payments from participating property owners via the property tax collection system and then remit those funds to the District (or its designated fiduciary) for distribution to the private capital provider that financed the project. The county will levy a C-PACE assessment servicing fee of up to 1% of the PACE assessment amount, included on the building owners property tax bill.  This county servicing fee, to cover the county tax assessors support services, is paid by the property owner over the term of the C-PACE financing in the normal course of paying their property tax bill.
Back to Top
Colorado New Energy Improvement District
The Colorado C-PACE program is an initiative of the New Energy Improvement District (NEID) which was authorized by The Colorado General Assembly's passage of the New Energy Jobs Creation Act of 2010 (HB 10-1328), as amended by the New Energy Jobs Act of 2013 (SB-13-212) and SB-171, enacted in 2014. These statutory provisions are codified at C.R.S. 32-20-101 et seq. (collectively, the "C-PACE Statute").
The Colorado C-PACE statute also established the Colorado NEID or the "District," to be governed by a Board of Directors comprising seven members, including representatives from the Colorado Energy Office, the real estate development industry, banking, the energy efficiency and renewable energy industries and public utilities.
NEID selected Sustainable Real Estate Solutions, Inc. (SRS), a 3rd party entity with substantial C-PACE market experience to administer the Colorado C-PACE program.
Back to Top
Sustainable Real Estate Solutions
The Sustainable Real Estate Solutions (SRS) leadership team is comprised of veterans with 20+ years' experience in the commercial and industrial (C&I) real estate information services market with a proven track record for developing industry leading products and market-making solutions.
In 2010 SRS pioneered new on-demand C&I building energy and sustainability performance assessment, benchmarking, underwriting and measurement and verification solutions through its Sustainable Real Estate Manager® platform. The deep experience and related expertise gained over the following years led the Connecticut Green Bank (CGB) to select SRS to implement its ground-breaking Commercial Property Assessed Clean Energy (C-PACE) statewide program.
On behalf of CGB, SRS drafted the program guidelines in 2012 and led a pioneering effort in 2013 to deploy the industry's first repeatable and scalable C-PACE project origination process through the contractor channel. To effectively manage contractor outreach, education and project origination workflows, SRS developed the C-PACE Data Management Platform (CDMP). The CDMP facilitates the data-intensive C-PACE program management process across the entire project life cycle – from project initiation through technical and financial underwriting, financing, commissioning and measurement and verification. This state-of-the-art platform, market tested over the past several years by leading commercial and public building energy efficiency and renewable energy investment stakeholders around the country, has proven crucial to the requirements for consistency, quality control and transparency.
In addition to SRS's unique technology-enhanced tools, SRS employs a highly skilled staff who provide in-depth technical support services to C-PACE stakeholders (contractors, building owners, mortgage holders and capital provides) to ensure their project underwriting requirements are met. This winning combination of market-driven technology and skilled staff has resulted in the origination, development, optimization and technical review on hundreds of C-PACE projects – a level unmatched elsewhere in the industry.
SRS as Program Administrator of the Colorado C-PACE program will deploy these proven industry-leading skills and tools to meet the challenges associated with launching and growing a successful Colorado C-PACE program.
Back to Top