State program relies on private capital, not taxpayer funds, to finance energy efficiency projects
Lafayette, CO—A 124-year-old mixed-use building on East Main Street in Florence will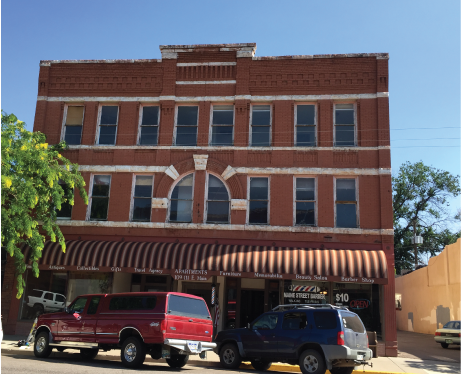 receive an energy makeover thanks in part to the state's commercial property assessed clean energy (C-PACE) program. The program, a public-private partnership, relies on private capital, not taxpayer funds, to help commercial property owners finance energy efficiency projects with affordable, long-term financing.
Denver-based GreenSpot Global developed the project for the 23,006-square-foot building, which will receive new insulation, LED lighting, window glazing, rooftop heating and cooling units, and a roof-mounted solar PV system. The project is projected to improve the building's energy efficiency by 85 percent.
New Resource Bank, a San Francisco-based triple-bottom-line bank, funded the investment, which totaled $616,844.
"With its thick brick and masonry and rooftop skylight, the McCandless building, as it's known, is a knockout," said Melissa Baldridge, founder and chief sustainability officer of GreenSpot Global. "Even so, its mechanical systems were 30-plus-years-old and residential grade; its skylight was broken and loosely boarded, and it had no insulation. By using C-PACE, the building owners are able to improve their asset and significantly reduce their operating expenses—all with no upfront costs. They also love that the improvements help them meet their loan equity requirements."
"This building was in rough shape when the owners purchased it, but they knew it would be a great investment because it has great bones," said Craig Giles, who represents the building's owner. "Once we learned about the Colorado C-PACE program, we recognized that C-PACE is the ideal way to add value to the building while lowering our operating costs."
"Our mission is to achieve well-being for all people and the planet through banking," said Skyler Webster, a vice president and commercial relationship manager with New Resource Bank. "C-PACE helps us meet that goal. I'm so pleased to fund this project. Not only will it make the building much more energy efficient, but it will also reduce our carbon footprint and help preserve our planet. It's a win for everyone involved."
About Colorado C-PACE
A program of the New Energy Improvement District (NEID) administered by Sustainable Real Estate Solutions, Colorado C-PACE facilitates financing for energy and water improvements, including new heating/cooling systems, lighting, water pumps, insulation, and renewable energy projects for commercial properties. C-PACE offers long-term financing that covers 100 percent of the project cost and is repaid over a period of up to 20 years. The payments are structured as a regular line item on the property tax bill. When a property is sold, the C-PACE assessment can stay with the property and transfer to the new owner, who enjoys the ongoing utility cost savings associated with the project.
About SRS
Sustainable Real Estate Solutions (SRS) partners with state and local governments to administer commercial property assessed clean energy (C-PACE) programs. Founded in 2010 by experienced commercial real estate and energy efficiency professionals, the company's proprietary technology-enabled PACEworx™ Platform streamlines the management of the data-intensive C-PACE technical and financial underwriting process. SRS's Investor Confidence Project-credentialed quality assurance methodology has facilitated more than $130 million in C-PACE financing nationwide—a level unmatched in the industry. SRS empowers C-PACE public-private partnerships across the country, including programs in California, Colorado, Connecticut, Ohio, Oregon, Rhode Island, Utah, and Virginia. The company is based in Trumbull, Connecticut.